The Republican Party's War on Women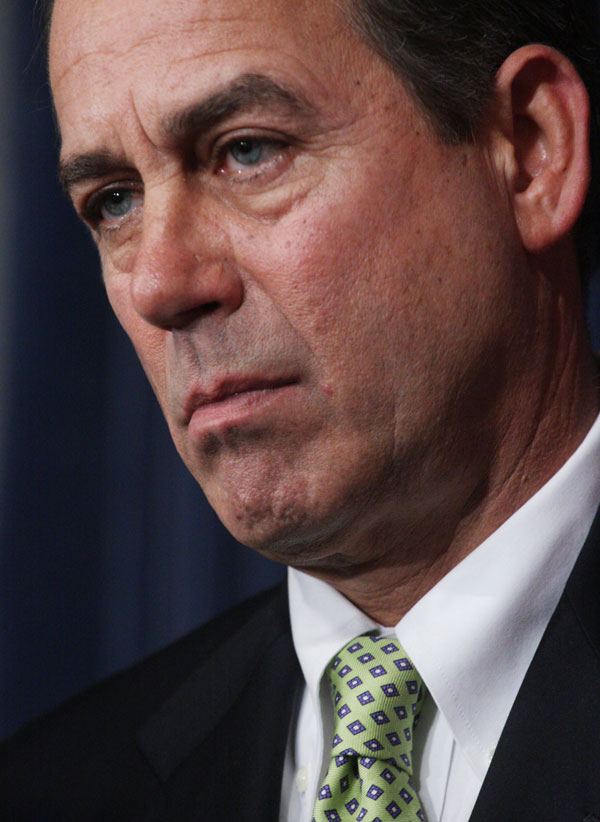 It may seem extreme to call the Republican Party's beliefs, words, and actions on reproductive rights and health a "War on Women," but after actually examining the policies, lobbying, and legislative efforts of the Republicans, I don't know what else to call it.
The most recent evidence of this war on women is H.R. 3 – known as the "No Taxpayer Funding for Abortion Act." Our Editor-in-Chief, Henry Casey, has already written on the most inflammatory aspect of H.R. 3, which would exempt women from the policy proposed by H.R. 3 only "if the pregnancy occurred because the pregnant female was the subject of an act of forcible rape or, if a minor, an act of incest" or if an abortion could potentially save a pregnant woman's life.  This language has since been removed and replaced with the language from the Hyde Amendment, which isn't much different, it just doesn't use the modifier "forcible." While I agree that the language is appalling, it shouldn't distract us from the additional restrictions H.R. 3 would place on the accessibility of abortion procedures.
When House Speaker Rep. John Boehner (R-OH) introduced H.R. 3, he stated that "A ban on taxpayer funding of abortion is the will of the people and ought to be the law of the land. But current law – particularly as enforced by this Administration – does not reflect the will of the people." In fact H.R. 3 does not appear to be the "will of the people" as Speaker Boehner claims. According to a survey conducted by the Pew Center on Religion & Public Life, "when health care opponents are asked in an open-ended question to describe their main reason for opposing the congressional proposals, just 3% raise the issue of abortion funding." The report continues:
Even when they are asked to choose among a list of reasons, fewer than one-in-ten (8%) opponents of health care legislation say the most important reason for their opposition is the possibility that government money might pay for abortions. Although a majority of health reform opponents (56%) cite the abortion issue as one of the major factors for them, far greater percentages cite concerns about big government, costs and the impact of reform on people's own coverage.
Additionally, the most recent survey (January 2011) conducted by the Pew Research Center for the People & the Press asked Americans what their top priorities are in terms of public policy.  Health care costs and health care legislation came in at #8 and #9, with each issue being rated a top priority by 61% and 56% of the sample respectively. Further restricting access to abortion, as a single issue, is not a top priority for most Americans, and it most certainly does not reflect the will of all the people; it is ridiculous and insulting for Speaker Boehner to so arrogantly claim that this bill is "the will of the people." Last I checked, a significant percentage of the population still support abortion, even if support has declined over the last decade.
H.R. 3 was introduced by Rep. Chris Smith (R-NJ), who for decades has opposed abortion, family planning, and reproductive education (Rep. Smith's voting record on various bills concerning abortion and reproductive issues can be found here) and is co-sponsored by 173 House Representatives.  H.R. 3 declares that "No funds authorized or appropriated by Federal law, and none of the funds in any trust fund to which funds are authorized or appropriated by Federal law, shall be expended for any abortion." The bill also ends any tax benefits (Sec. 303 of H.R. 3) incurred by health insurance plans that provide abortion coverage:
The bill would…impose tax penalties on individuals and small businesses with insurance plans that include abortion…people with insurance plans that cover abortion would have to pay higher taxes than people whose health plans don't…If your insurance plan covers abortion – even if you never knew it, and even if you never used it – you could face a tax penalty.
H.R. 3 would additionally prohibit the purchasing of policies that cover abortion using matching funds for federally subsidized programs, including Medicaid. H.R. 3 also states that no health care service provided "by or in a health care facility owned or operated by the Federal Government" or "by any physician or other individual employed by the Federal Government to provide health care services…may provide abortion."  Essentially, if H.R. 3 were to become law, health insurance companies would be provided a strong financial incentive to drop abortion coverage, to deny abortion coverage to individuals receiving Medicaid benefits or any Federal or State health benefit, and to discontinue abortion services provided by Federal health care facilities, which would include women serving in the military, prison inmates, Federal employees, D.C. residents, and Native Americans covered by the Indian Health Service.
If the goal of abortion opponents to decrease abortions by restricting access to the procedure, it is ironic that such actions do not decrease abortion rates.  Instead women seek illegal abortions, which can have dire consequences, including death.  A report by the Guttmacher Institute found that
…the incidence of abortion is closely related to that of unintended pregnancy, it does not correlate with abortion's legal status. Indeed, abortion occurs at roughly equal rates in regions where it is broadly legal and in regions where it is highly restricted. The key difference is safety—illegal, clandestine abortions cause significant harm to women, especially in developing countries.
In fact, the report found that "the decline in worldwide abortion occurred alongside a global trend toward liberalizing abortion laws."  In terms of public health policy, making access to reproductive health services – like abortion – difficult or illegal has a hugely detrimental effect upon not only women's health, but the health and economic stability of their families.
Another report by the Guttmacher Institute entitled "Preventing Unsafe Abortion and its Consequences Priorities for Research and Action" found that in countries where access to safe abortion is restricted "complications from unsafe abortion lead to morbidity and are a major cause of maternal deaths. Globally, it has been estimated that some 68 000 women die each year as a consequence of unsafe abortion, and 5.3 million suffer temporary or permanent disability…The public health burden is greatest in the developing world."  Additionally, severely restricting or banning abortion has a disproportionate effect on low-income individuals, and if H.R. 3 were to be enacted into law, it would disproportionately harm low-income women who depend on government and non-profit entities to receive health care and it would drive up the cost of insurance plans that did cover abortion.  The Guttmacher Institute report quoted above also found that
In countries were abortion is highly restricted, large numbers of beds in obstetric wards are often occupied by women who have experienced complications from unsafe abortion, attesting to the fact that women seek abortions regardless of laws prohibiting abortion services. Access to safe abortion services where these are prohibited by law is primarily a function of the ability to pay and having access to networks of safe, clandestine abortion providers. Poor women and rural women are therefore more likely to receive poor quality abortion care than urban and wealthier women. This differential access to safe abortion care places a disproportionate burden on poor women who are seeking an abortion and on the public health services which divert scarce health care resources to care for them. [Emphasis mine]
Is this the result that the Republican Party really wants?  Because the persistent efforts of the Republican Party and those who oppose abortion to make abortion illegal in all cases excepting rape or incest with a minor (incest between adults is not illegal) will result not in a decrease in abortions, but higher maternal mortality and serious illness, especially among low-income women.  This study also debunks the argument that proponents of H.R. 3 have made: that the bill is a costs-savings measure.  Making abortion illegal or highly restricted would actually increase health care costs, as women who seek illegal abortions and suffer the consequences of botched procedures performed by unqualified individuals must then be cared for, straining already scare public health care resources.
The Republican party used to be the party of small government, the party that believed the government should intrude as little as possible into the private lives of it's citizens.  Today, the Republicans seem to be hell-bent on regulating abortion, one of the most difficult and intimate decisions women, couples, and families sometimes have to make.  In some states, women already have to endure what is called "fetal-pain counseling," pre-abortion ultrasounds, mandatory waiting periods, and are actively misinformed as to the psychological risks of abortion and the fiction that there is a link between having an abortion and increased breast cancer risks.  And while Republicans are so very deeply concerned about the health and welfare of the unborn, they seem to care very little about the health and welfare of the children who are born when they fight funding for education, health, and other service programs.  Op-ed columnist for the New York Times Gail Collins stated it best, "There are tens of millions of Americans who oppose abortion because of deeply held moral principles.  But they're attached to a political movement that sometimes seems to have come unmoored from any concern for life after birth."  Collins then continues on to make a poignant example of this cognitive dissonance with the recent action of Governor Rick Perry, who, "faced with an epic budget crisis that's left the state's schools and health care services in crisis, has brought out emergency legislation — requiring mandatory sonograms for women considering abortion."
Most people do agree that there is a point in pregnancy where an embryo is no longer a collection of dividing cells, but a child, but until that point – which, in most states, is 24 weeks – whether a woman decides to have an abortion or not is none of the State's business.  The Republican party's continued battle to restrict abortion as well as access to contraceptives is a war on women because these laws disproportionately effect women.  Politicians don't ever present bills to restrict access to reproductive health care for men (after all, medicare covers Viagra).  But women's reproductive choices are a matter of public scrutiny and examination.
Accessible abortion is an important public health and reproductive rights issue, but it goes deeper than that.  By forcing women to bear children they do not want or cannot care for by severely restricting access to abortion (and by not providing cheap, easily accessible birth control) we are serving the best interests of neither women nor unborn children.  There are millions of children in the foster care system who need good, loving homes, and by making abortion hard to obtain or illegal it appears to me we will only be increasing their number.  The late Garret Hardin, the great ecologist who wrote The Tragedy of the Commons, said that what should really concern us is not abortion, but the unloved, unwanted children
Society does not need more children; but it does need more loved children.  Quite literally, we cannot afford unloved children – but we pay heavily for them every day.  There should not be the slightest communal concern when a woman elects to destroy the life of her thousandth-of-an-ounce embryo.  But all society should rise up in alarm when it hears that a baby that is not wanted is about to be born.
Abortion is ethically hazardous, but the greater crime is that by restricting access to abortion, in conjunction with haphazardly available contraceptives (and deplorable sex education), does not result in fewer abortions, but in more unloved children.  And that – not abortion – is truly deplorable.